The HAKUTSURU Fine Art Museum was established by Mr. Jihei (Kakuo) Kano, the seventh president of HAKUTSURU, and opened in 1934. It is one of the finest private museums in Japan, featuring first-rate traditional works of art. The collection includes ancient bronze ritual vessels, ceramics, and antique paintings of Japan.
History
The HAKUTSURU Fine Art Museum opened in 1934 on the west bank of the Sumiyoshi River in Kobe. Its founder, Kakuo Kano, the seventh president of HAKUTSURU, began collecting art passionately prior to the turn of the 20th century. Before long he had collected Buddhist sutra scrolls and calligraphy from the Nara and Heian periods, Buddhist artifacts from the Asuka to Kamakura periods, picture scrolls, screens, and hanging scrolls from the Kamakura to Edo periods, and famous items from old temples in Nara, his place of birth. Later, particularly in the 1910s and 1920s and with the cooperation of an antique art dealer, he was able to take advantage of good timing to amass a world-class collection that includes bronze ritual vessels from the Shang and Zhou Dynasties, ceramics from the Tang, Song, and Ming Dynasties, and silver ware and mirrors from the Tang Dynasty.
Feature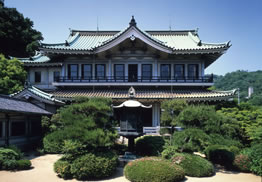 Main Building
The main building is proud of its rich art collection which focuses on old art pieces (about 1,300). Among them, its bronze ritual vessels are widely known both inside and outside the country as a collection of beautiful and excellent pieces.
Annex
To commemorate the 60th year anniversary of the opening of the HAKUTSURU Fine Art Museum, the annex was opened in 1995. The focus of its display has been Persian carpets, i.e., it is a carpet museum. It has been evaluated highly as Japan's first carpet exhibition facility.
Great Treasures



Fangyou-type swing-handled ritual square wine container with cover, decorated with taotai mask and kui-dragon design.



Meiping-style vase decorated with a dragon design carved through the iron-black slip to the white slipped body, covered with transparent glaze. Cizhou ware.



Silver eight-lobed footed shallow cup with gilded design of birds and flowers.



"Flowers and Birds of the Four Seasons", by Kanou Motonobu (1467-1559), a pair of six-fold screens, color and gold leaf on paper.
Address
6-1-1, Sumiyoshiyamate Higashinada-ku, Kobe 658-0063
Telephone/Facsimile: 078-851-6001
Transportation
Get off at "HAKUTSURU Fine Art Museum" bus stop from Bus No.38 departing from Hanshin Mikage station or JR Sumiyoshi station.
Walk for about 15 minutes (approximately one kilometer) north-east from Hankyu Mikage station.
Free parking (large bus parking available)